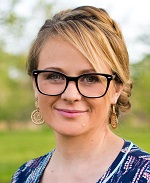 Office: 561 Clark Hall
Phone: (314) 516-6245
whitevd@umsl.edu
---
Violaine White is an Associate Teaching Professor of French. She joined UMSL's department of Language and Cultural Studies in 2014.
Violaine received her Ph.D. from Washington University in St. Louis in December 2012. She also completed a Graduate Certificate in Language Instruction that same year. Before coming to the United States, she received a Maîtrise de Langues, Littératures et Civilisations Étrangères from the Université Catholique de l'Ouest in Angers, France.
Violaine teaches language, literature, and culture classes at all levels of acquisition. Since she joined UMSL's faculty, she has developed senior and graduate seminars on the subject of war, tourism, and care in French and Francophone Cultures. Technology has played an important role in Violaine White's course development efforts. She regularly presents the results of her teaching at regional and national conferences.
Violaine's research focuses on modern and contemporary French literature. Through her critical inquiry, she delved deeper into reflections on fragmentation in poetry, representations of space in literary discourse, war narratives, lyricism, and care. She has published scholarly articles and given presentations on authors such as René Char, André Breton, Emmanuel Carrère, and Elsa Triolet to international, national, and regional audiences.
Violaine regularly serves on University committees, including the Faculty Senate. She is the Faculty Liaison for Lingua, UMSL's language student organization. She is an Advanced Credit Program Liaison for high school French teachers in the St. Louis area. Since 2013, she has served on the executive board of the Greater St. Louis Chapter of the American Association of Teachers of French, for which she acts as secretary.
Contact Information
Violaine White, Ph.D.
Associate Teaching Professor, French
Clark Hall 561
whitevd@umsl.edu
(preferred)
(314) 516-6245