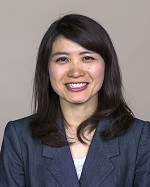 Office
:  552 Clark Hall
Phone
: (314) 516-6860
uedak@umsl.edu
---
Background:Keiko Ueda is an Associate Teaching Professor of Japanese. She joined UMSL's Department of Language and Cultural Studies in 2014. She earned M.A. in Japanese with an emphasis in Applied Linguistics from Purdue University in 2014.
She was born and raised in Osaka, Japan. She came to the United States in 2006 as a Fulbright Foreign Language Teaching Assistant.  She has taught Japanese at several institutions: Lincoln University, Washington and Lee University, Youth For Understanding USA, Middlebury College Language School and Purdue University.
Teaching: Keiko teaches Japanese courses at all levels from beginning to advanced Japanese, readings in Japanese, Topics in Japanese Culture and has supervised Independent study courses. She leads Study Tours to Japan as one of the faculty directors.  Her educational interests include Language Pedagogy, Instructional Technology and Tadokuk (Extensive Reading).
Other Activities: Keiko currently represents the department on the Chancellor's Cultural Diversity Council. She also serves as the chair of the department's Recruitment and Retention Committee. She is a member of several professional organizations including the American Council on the Teaching of Foreign Languages and the American Association of Teachers of Japanese.