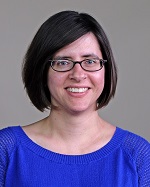 Office: 552 Clark Hall
Phone: (314) 516-6517

michaela@umsl.edu
---
Associate Teaching Professor in Japanese

Education:
  MA in Teaching (Japanese), Washington University
Background:
  After completing her undergraduate degree at the University of Southern California, Amy Michael decided to fulfill a long held dream to travel the world and was fortunate to be selected as a Japan Exchange and Teaching (JET) Program participant.  Japan proved so fascinating that her planned one-year stay turned into five--after three years at her initial assignment (at the junior high school level), she was awarded a two-year contract extension to assist the introduction of English classes to elementary schools in Omuta, Fukuoka.  Her experiences in Japan shifted her career focus and inspired her to pursue a career in education and, after returning to the US, she completed a Master's in Teaching (Japanese) at Washington University in St. Louis.  As a Japanese-language instructor at UMSL, she has loved working in a growing program with a diverse and energetic student body.
Teaching:  Amy has taught language courses from 1001 (Beginning Japanese I) to 4301 (Advanced Japanese I), and regularly leads 2-week summer
Study Tours to Japan
.  She teaches culture courses through the
Pierre Laclede Honors College
on topics such as Modern Japanese Film and Japanese Pop Culture.  Her educational interests include integrating technology in the classroom, best practices in online and blended courses, faculty-led study abroad programs, and program building.
Other Activities:  Amy is the Japanese Section Head and advisor to the
Japan-America Student Association
.  She is a member of several professional organizations including the
American Association of Teachers of Japanese
.