Professional Master of Business Administration
The Professional Master of Business Administration (PMBA) program is an accelerated weekend MBA program for those who already have some work experience and want to enhance their career opportunities. It provides working professionals with the flexibility and experiences they seek in a business graduate degree.
This program is designed to accommodate a busy professional's life by offering classes one weekend per month enabling students to balance school, work, and life. PMBA students have already achieved a certain level of success, so valuable networking opportunities are a key benefit of this program. Students also have the ability to learn from classmates' work experiences as small class sizes and a cohort model offer specialized attention and close relationships. Professors provide both teaching and mentorship.
Program type:
Graduate, PMBA
Take the next step
Request more information below:
Loading...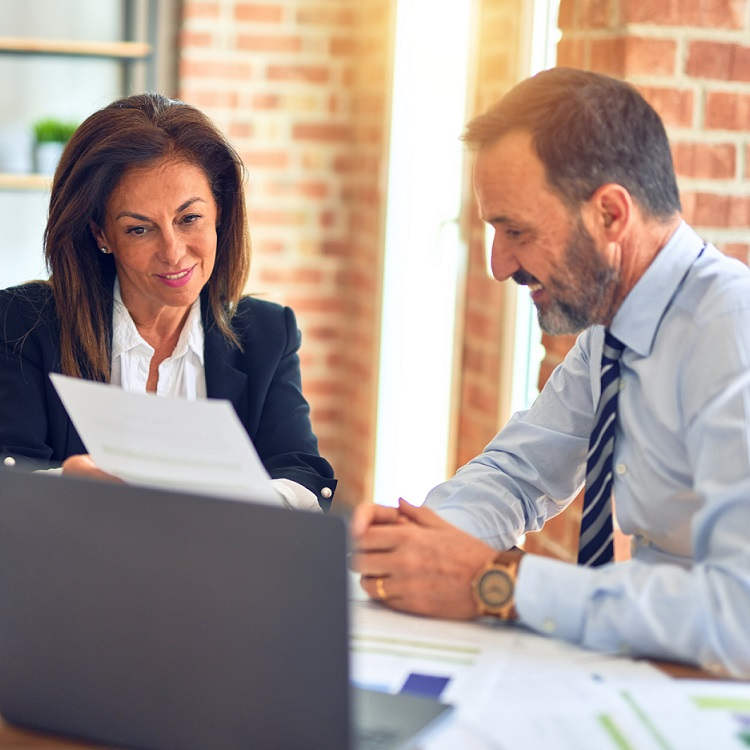 Degree Overview
Master of Business Administration -
Professional MBA
The PMBA program at UMSL is held one Friday and/or Saturday each month for 21 months. Generally, two new courses are introduced every three months. The program provides breakfast, lunch and snacks during all campus sessions.
Online asynchronous elements of the program serve to augment rather than replace the personal interaction and allow students to participate in class discussions or team collaboration based on individual schedules. During the second year of the program, students will participate in a 7–10 day international business experience where students travel abroad.
Outcomes and Career Outlook
Upon completion of the program, graduates will apply what they've learned to real-world business situations. They will maintain awareness of legal and compliance issues, critically evaluate emerging markets and technologies, and understand complex business financial affairs. 
The Professional Master of Business Administration degree will also prepare you to lead teams, develop effective marketing and promotion strategies, and communicate clearly while developing healthy working relationships. The degree may also increase your earning power, with an estimated median annual salary of $81,235 for graduates, according to wage data from Payscale.
Career Opportunities
Business Analyst
Finance Manager
Logistics Manager
Distribution Officer
Marketing Consultant
Business Operations Manager
Chief Technology Officer (CTO)
Investment Banker
Production Officer
Admission Requirements
The PMBA program requires you meet basic graduate admission requirements, including having completed a Bachelor's degree at an accredited university. Additionally, we require three years of professional work experience to be applicable for this unique program. We are selective about those we admit to the program. Only about 60 percent of applicants are accepted into the program.
What do you need to apply?
A completed online application
Official undergraduate degree transcripts from an accredited university plus any other collegiate-level transcripts
Résumé that reflects at least three years of professional work experience following graduation
Minimum undergraduate GPA of 3.0 and a GMAT score of at least 500 or waiver
An employer statement of support to ensure the ability to attend the designated classes
A statement of purpose reflecting a desire to pursue a technology-based educational program and demonstrating a high level of self discipline
Interview with the Graduate Office once the above materials are complete
Two letters of recommendation
Submit all information to the Office of Graduate Admissions (or the Office of International Student Services for international students).
Student Organizations – UMSL is home to more than 100 student organizations with many serving graduate students. This includes graduate organizations in business, creative writing, psychology, biology and more in addition to graduate honors societies and student veterans organizations.
Career Services – Students have access to professional career counselors who can assist in everything from resume development and interview preparation to lining up an internship or connecting you with your next fulltime career. UMSL alumni also enjoy high quality, lifelong career management programming, services, events and resources to assist in all phases of career development.
Networking – with the largest alumni network in the region, UMSL graduate students have access to leading professionals engaged in business, research, entrepreneurship, non-profit, government, community organizations. Our academic units engage this network in curriculum development to ensure our graduate students gain the skills needed to advance along their choose career path.
Research – There are many opportunities for graduate students to showcase their research including our annual Graduate Research Fair, which is open to students from all graduate programs. Doctoral and thesis master's students can also compete in the Three Minute Thesis challenge to be evaluated by a panel of judges for a chance to win cash prizes.