Supporting veteran students helps make a strong St. Louis workforce
With veterans making up over 9% of Missouri's adult population, helping those men and women transitioning out of the military is essential to ensuring a strong workforce in St. Louis and beyond – and earning a college degree can be a crucial step for them as they move into the next phases of their lives.
The University of Missouri–St. Louis has excelled in supporting former service members through this period of adjustment so they can meet their educational goals and ultimately launch new careers.
Military Times recently ranked UMSL No. 1 in Missouri and No. 37 nationally on its 2021 "Best for Vets Colleges" list. It is a wonderful honor and we are proud to support those who have served our country.
The publication aims to have the largest and most comprehensive rankings to help military service members, veterans and their family members make decisions about their education. This year's list included 366 institutions, and it marked the seventh consecutive year that UMSL finished in the top 50.
That sustained recognition doesn't happen by accident.
We have worked hard to understand the needs of the approximately 400 student veterans and military-connected students we enroll each semester, and we have taken steps to ensure our services align with those needs.
The UMSL Veterans Center, established in 2012, certifies that our student veterans are receiving their G.I. Bill benefits, so they can be enrolled in college and work toward their degrees.
It also doubles as a welcoming place where they can build camaraderie with other students who have had similar life experiences as they get acclimated to the college environment.
The supportive staff in the Veterans Center is a great resource, helping connect them to other student services – anything from tutoring to emergency financial relief – so they can overcome any barriers impeding their academic progress.
We've found that student veterans face a lot of the same challenges experienced by our general student population. Both tend to be older, are often working, might have families and are more career-focused than traditional college students. As a result, we have a lot of experience deploying the services they need to help them succeed.
Our goal is to create a campus community where all of our students feel safe, welcome and included – a place where our student veterans feel at home and can enjoy the same rich academic and social experience as all of our students.
When they graduate, we expect them to join the more than 105,000 UMSL alumni living, working and making a positive impact in their communities, particularly right here in the St. Louis region.
Student veterans are critical to building our workforce and communities. They are uniquely positioned for career success due to their military training, strong work ethic and steadfast leadership, as well as lifelong success as they display goodwill, volunteerism and civic engagement.
Gratefully forward,
Kristin
---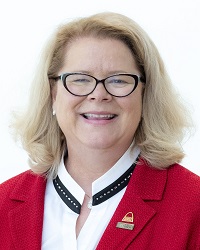 BY KRISTIN SOBOLIK
CHANCELLOR, UNIVERSITY OF MISSOURI–ST. LOUIS
Student veterans are critical to building our workforce and communities