UMSL champions for community change with intensified initiatives
The University of Missouri–St. Louis elevates the St. Louis region and beyond in countless ways. More than 80% of UMSL students come from the region and a vast majority remain here to live, work and drive positive change in our community each and every day.
Our region's alumni network of more than 75,000 graduates are our community and business leaders, educators and nurses, scientists and researchers, accountants, social workers, engineers, optometrists and civic leaders.
UMSL is truly an institution of opportunity, providing access to a Tier One education and then delivering on that promise with top-in-the-nation retention and graduation rates as compared to other urban public institutions. UMSL was also one of five institutions lauded by St. Louis Graduates for graduating students with less debt. That is a game changer in the lives of our students, their families and the region.
More than any institution in this region, perhaps in all of Missouri, UMSL truly does transform lives. UMSL is one of the most diverse universities in the state reflecting our regional demographics – and produces a diverse workforce. It is through institutions such as UMSL – with its deep roots in inclusion and diversity – that I see our greatest potential for positive change and growth in our state and nation.
To champion that change, I recently announced the Rise Up for St. Louis initiative focused on directly and intentionally engaging all of our communities in building inclusive prosperity and growth throughout the region.
First and foremost, we will continue to elevate the region by providing a high-quality and accessible education to those who share a desire to learn and grow, and bring meaningful contributions to our community and economy.
Rise Up for St. Louis extends to elevating the region through targeted economic and workforce development initiatives, community engagement and outreach activities, life-changing research and educationally relevant degree programs designed for today and tomorrow. We work with our community as a collaborative and steadfast partner in building, elevating and rising up St. Louis.
I believe that to really lean into and advance our region – to elevate, invest and build our region – we must collaborate and work together toward a shared set of common goals. Because we know, with absolute certainty, that if we come together, work together, build together, our region will become not just the very best of what it can be, but the very one that our future generations seek and deserve. 
I hope you will join UMSL in this pursuit as we Rise Up for St. Louis together.
Gratefully forward,
Kristin
---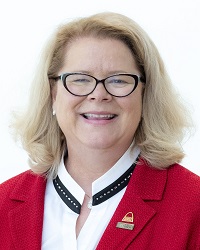 BY KRISTIN SOBOLIK
CHANCELLOR, UNIVERSITY OF MISSOURI–ST. LOUIS
Rise Up for St. Louis extends to elevating the region through targeted economic and workforce development initiatives