March 10, 2020 - Monthly Message to the UMSL Community
Dear UMSL Community,
Fresh off our homecoming celebrations and the excitement of our top-seeded Tritons making it to the university's first-ever GLVC men's basketball championship appearance, I'm both excited and encouraged to see the strong community that we are building here at UMSL. In many ways – from transformative teaching and research to community service and outreach, to name a few – we are building a community of excellence together.
For my March message, I want to focus on a different kind of opportunity to shape our university's future – the United States 2020 Census. Every 10 years, the United States conducts a comprehensive count of everyone living in the country, including all college students whether in state, out-of-state or international.
No later than April 1, 2020, every residence in the country will receive an invitation to participate in the census where you'll be asked a few simple questions like name, age and the number of people who live in your home, including children. You'll have three options for responding: online, by phone or by mail.
These basic statistics are used to determine each state's representation in Congress and to inform the allocation of more than $675 billion in federal funding annually, which includes funding for education, health care, housing, transportation and more. Local leaders also use these statistics to make decisions about programs and services for our communities.
For every adult and child NOT counted in the last census, Missouri lost $1,300 in federal dollars every year for the last 10 years — $13,000 fewer federal dollars for every uncounted person.
For our campus, community and state – your responses will help shape UMSL and Missouri's educational landscape for the next decade to come. An accurate count of all people in the state will impact funding for the Federal Pell Grant program, student wellness programs, medical assistance programs, adult education grants and community mental health services, to name a few.
I invite you to learn more about the census by visiting our 2020 Census website.
Gratefully forward, 
Kristin Sobolik
Interim Chancellor and Provost
---
Notes of Note
Women's History Month – UMSL is celebrating Women's History Month with series of events and activities that commemorate and encourage the study, observance and appreciation of the vital role of women in American history. Our celebrations are well underway with many events occuring throughout the month and culuminating in our 25th annual Women Trailblaizers Award. Take a moment to view the schedule of events and get involved.
UMSL Day – Our spring open house, UMSL Day, will be held March 14 where we will welcome prospective students, families and friends to campus to learn all about the UMSL experience, degree programs, college admissions and financial aid opportunities. We'll also hold open houses for the SUCCEED program on March 25 and the Honors College on March 28. Please encourage those in your communities to register today.
Coronavirus – The CDC and university officials are closely monitoring an outbreak of respiratory illness caused by a novel coronavirus, COVID-19. UMSL health professionals will continue to communicate with students, faculty and staff on safety precautions, travel guidance and other necessary actions as needed. We have established a website to provide you with the latest information on prevention and response.
---
Headlines from UMSL Daily
Sammy Jacobs, Jasmin Williams crowned homecoming royalty
Royalty were chosen based on their philanthropy efforts and crowned during the homecoming dinner and dance, which concluded the weeklong festivities.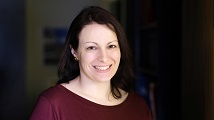 Stephanie Van Stee examines mixed messaging in pharmaceutical advertising
The assistant professor of communication and media is focusing on the visual images used in the disclosure section of prominent television advertisements.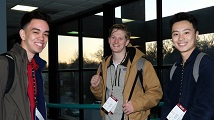 Learning and technology combine at UMSL | Hack
The student-organized event connects participants with mentors and job opportunities while teaching them new computer programming techniques.
UMSL alumni among 2020 Salute to Young Leaders honoree
The University of Missouri–St. Louis was well represented at the 10th Annual Salute to Young Leaders, with four UMSL alumni among the 20 honorees.