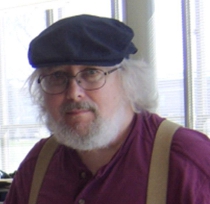 Longtime UMSL professor Glen David Curry passed away Monday, April 27, 2015, after a prolonged period of heart problems. He was 66 years old.  Read his obituary in the St. Louis Post-Dispatch
here
.
Better known to fellow members of the campus community as Dave Curry, the emeritus professor of criminology and criminal justice joined the UMSL faculty in 1994.
At that point he already had garnered international acclaim for his studies of street gang activities, which later expanded into a focus on youth violence in general. He rapidly became a committed UMSL citizen in all the best senses of the term.
"Professor Curry was an inspiration to faculty and students alike as a scholar, as a gentleman and as a good friend," said Bob Bursik, Curators' Professor. "He retired in 2011 for health reasons and moved to Mobile, Alabama, but maintained strong ties to our department and the university."
Professor Curry earned his PhD in sociology at the University of Chicago in 1976. His long tenure at UMSL followed earlier appointments at the University of South Alabama and West Virginia University.
Not only did Professor Curry continue to be a prolific researcher, bringing in more than $800,000 in external funding as a principal or co-principal investigator, but he was highly devoted to his teaching responsibilities. He was an early contributor to the department's development of online courses, and in 2004 he received the Chancellor's Award for Excellence in Service.
Professor Curry also served on the national boards of the Boys and Girls Clubs of America, winning its Advocacy Award in 2001, and the Vietnam Veterans Against the War (Curry served in the U.S. Army from 1969 to 1972, achieving the rank of Captain).  Professor Curry is survived by his wife, Janet Curry, and daughter, Zoe.
Memorial contributions may be made in Professor Curry's honor to Vietnam Veterans Against the War (via
vvaw.org
or Vietnam Veterans Against the War, Inc., National Office, P.O. Box 355, Champaign, IL 61824-0355).
-----------------------------------------------------------------------
Organized violence was the theme of Professor Curry's 30 years of research. His books, research articles and book chapters focused on gangs, military service, hate crime, and domestic violence. In his latest research, he had been studying programs that may reduce youth violence.

Areas of Specialization
Organized violence
Juvenile justice and youth violence
Evaluation research