---
Econ student Jordan Lucas spends summer interning in Missouri Senator Claire McCaskill's Washington DC office.   
  Marcela Manjarrez Hawn (BS 1998) was a recent recipient of the
  St. Louis Business Journal's Diverse Business Leader Award.
Professor Anne E. Winkler and co-author Francine D. Blau have published the 8th edition of The Economics of Women, Men, and Work with Oxford University Press.
 May 2018 graduate Emma Nix lands a new policy analyst position at PJM in Philadelphia.    

Economics graduate Matt Segrist to apply lessons learned at UMSL in new job at Post Holdings.


Provenance Spring 2017 article on Adam Richardson (BS/MA 2011), Manager of Data Science and Advanced Analytics at Centene Corporation.
Economic Resource Center highlighted as "unofficial hub of the Econ Dept."


Sharon Levin, professor emerita, was quoted in the New York Times on May 18, 2017.  Sharon is an expert in the economics of science.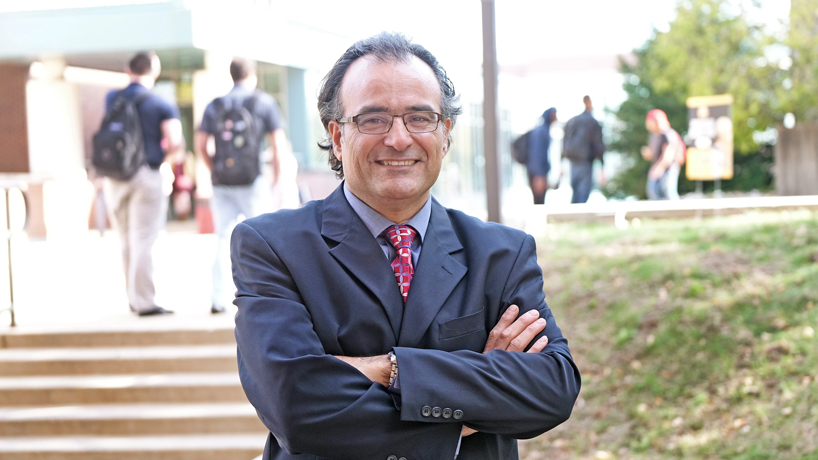 The November 20, 2016 UMSL Daily featured Economics Professor Sel Dibooglu, who was the keynote speaker at the recent International Congress of Money, Economy and Policy in Istanbul,Turkey.
Read about alumni Majana Reis (BS/MA 2005) in the September 16, 2016 issue of St. Louis Magazine.  Cathy Lander-Goldberg's article "Resilient Souls: A Photography Exhibit About Growing Up" features Majana in the first two photographs. Read more about Majana (BS/MA 2005) in this December 6, 2016 UMSL Daily article.
Alumna Andrea Ellis (BS 2015) on how her time at UMSL helps her manage work, law school and the National Guard.
Congratulations to Economics student Meagan Burwell, who was recently featured in the UMSL Daily and is being honored as a recipient of the College of Arts and Science's Eugene Meehan Scholarship!.
Karl Guenther, current MA Econ student and a community development specialist in the Public Policy Research Center, has received the Emerging Leader Award from the Missouri Workforce Housing Association.  Congratulations, Karl!
The UMSL Department of Economics has become an official sponsor of the International Congress of Management, Economy, and Policy, an international conference held each November in Istanbul, Turkey. Professor Sel Dibooglu will be a keynote speaker at the 2016 conference. http://www.icomep.com/
Rudy Fichtenbaum (BS 1976), Professor Emeritus at Wright State University, is serving a third term as president of the American Association of University Professors (AAUP). Rudy retired last year from Wright State University after a 35 year career there.
Richard Caroll (BA 2008) has been traveling the world in recent years doing freelance work. He had an article published on August 2, 2016 in The National Interest that discusses recent geopolitical events occurring in the South China Sea. The article cites research by faculty member David Rose.
Professor Dave Rose has been asked to serve a second term on the Missouri Advisory Committee to the U.S. Commission on Civil Rights.
Professor Susan Feigenbaum has been recently named as one of 14 "leading experts" from the Midwest region to serve as inaugural members of the Midwest Comparative Effectiveness Public Advisory Council (Midwest CEPAC). This is a health advisory group that will review findings on new drugs.
Congratulations to student Hagen Montano, who has been accepted into the MA in Philosophy of the Social Sciences program at the London School of Economics! Hagen is graduating from UMSL with a BS in Economics in May 2016.
Exciting news! Effective May 1, 2016, our own Economics alum Richard Baniak will be UMSL's new Chief Financial Officer! Richard earned his BS in Economics in 1986, and his Economics MA in 1995. He will be retiring as Divisional CFO of Advanced Products for The Boeing Company to join UMSL as the new Vice Chancellor for Administration - CFO. Congratulations, Rick!
Congratulations to Associate Professor Lea Kosnik, who is now the President-Elect of the Transportation and Public Utility Group (TPUG). PUG is an international forum for researchers and practitioners interested in the economics of and public policies towards the transportation and public utilities industries.
Officers at the TPUG Reception at the American Economic Association's January 2016 Annual Meeting. (L-R) John Mayo (Georgetown University), outgoing President, Pat McCarthy (Georgia Institute of Technology), incoming President, and Lea Kosnik, President-Elect.
We're pleased to announce that the 2015 UMSL Department of Economics Alumni Award was presented in April to Bruce Welz (MA 1980), retired Associate Professor from St. Charles Community College. Bruce has had a 30+ year relationship with the department. Most recently, he established a scholarship in the department as a tribute to the late emeritus professor, Robert Loring Allen.
Marcela Manjarrez Hawn (BS 1998) is now Senior Vice President and Chief Communications Officer at Centene. In her new position, she will oversee strategic communications and report directly to the Chairman/CEO of Centene. From 1998, when she graduated with her BS in Economics from UMSL, through 2007, she worked as an Economic Research Analyst. She then worked in a number of different capacities, including Special Assistant to the President at the Federal Reserve Bank of St. Louis, and then Public Affairs Officer. Most recently, from 2012 to 2014, she held the position of Vice President, Public Affairs, at the Federal Reserve Bank.
Tom Minogue, BS Economics 1976, is serving as the President of the Chancellor's Council at UMSL. Minogue, who is chairman of Thompson Coburn, LLP law firm, received his law degree from Harvard University. As quoted in the December 7, 2014, UMSL Daily, "It was a very easy 'yes' for me," Minogue says. "UMSL was in the right place at the right time for me in the 1970s, and I figured if I could give back to the university in some way that would be a great thing. The university was the foundation of my life both from a family and career perspective. Last year, Minogue spoke on behalf of UMSL alumni at UMSL's 50th anniversary dinner (see photo). UPDATE: And Tom has the distinction of being the first UMSL|Economics alum to be on a billboard!
Michael Thomas began a tenure track position in the Economics and Finance Department of the Heider College of Business at Creighton University in Fall 2014.
Keith Guller (BS 1976) received an Honorary Degree from UMSL at the August 2014 Commencement. Keith Guller is president, chief operating officer and chief executive officer of Essex Industries, Inc. He has also been a longtime supporter of the Department of Economics.
Dave Sanders (MA 2006), Adjunct Instructor in our Department since the Spring 2006 semester, has taken a full-time position as Economics Instructor at Saint Louis University.
Tom Kruckmeyer (MA 1977) recently wrote a paper with co-author Sarah Steelman titled "College Athletes Everywhere Just Wanna Be Free." For more information, go to www.Bigcollegesportseconomics.com. Tom held the position of Chief Economist for the Missouri Office of Administration-Division of Budget & Planning from 1978-2004.
Yvetta (Travnickova) Fortova (BA/BS 2004), a Senior Research Associate at the St. Louis Federal Reserve Bank, works as part of the Federal Reserve Economic Data (FRED) Team. She and the rest of the FRED team were featured in the Sunday, August 3, 2014 St. Louis Post-Dispatch article titled "Fed's Data Rock Stars Work Here. For article: http://www.stltoday.com/business/local/meet-fred-the-fed-s-rock-stars-of-data/article. To access FRED: http://research.stlouisfed.org/fred2/.
We're pleased to announce that the 2014 UMSL Department of Economics Alumni Award was presented in May to Jesse Wolfersberger (MA 2009), Director of Consumer Insights at GroupM Next. Congratulations, Jesse, and thank you for your support!
Thomas Briggs (MA 2013) presenting his poster at the 2012 Undergraduate School Research Fair.  Thomas began the Economics PhD program at Colorado State in Fall 2014.
Congratulations to alum Aaron Johnson (BS 1994, MA 2000), who is an Assistant Professor of Economics at Darton State College. Aaron was featured in an interview in the February 21, 2014 edition of the Albany Herald (Georgia)! See On The Job with Aaron Johnson. (Aaron says that his most beneficial class was Introduction to Econometrics, taught by Professor Anne Winkler!)
ECONOMICS FRONT OFFICE FACES THROUGH THE YEARS...
Three consecutive department Administrative Associates aka Business Support Specialists) at the 2013 Holiday Party - L-R Debra Garcia (2002 to 2012), Judy Cates (2012 to present), Gloria Axe (1977 to 2002)