Summer Sophomore Experience
The MoLSAMP Summer Sophomore Experience is a week-long residential program that includes programming and activities designed especially to help students from historically underrepresented backgrounds in STEM (Black or African American; American Indian or Alaska Native; Hawaiian/ Pacific Islanders; Hispanic) majors throughout their second year of their college experience at MoLSAMP alliance member institutions. These institutions include Harris-Stowe State University, Lincoln University, Truman State University, the University of Central Missouri, the University of Missouri at Columbia, the University of Missouri at St. Louis, Washington University and the St. Louis Community College System.
For the purpose of this program only students who are rising sophomores (completing the freshman/first year) in STEM-related majors at universities within the MoLSAMP alliance are eligible for admission—regardless of how many hours that have been completed in the first year of enrollment. Participants who successfully complete the MoLSAMP Summer Sophomore Experience will award a stipend of $500 for participation in the program and travel expenses up to $250. Participants will reside on Harris-Stowe State University's campus with all expenses paid during the program.
Date of the Program: August 6-11, 2017
Application deadline: May 19, 2017     
---
Purpose
Increase minority graduates in science, technology, engineering and math.
---
Special Features
Stipends for qualified students, advising, faculty mentoring; internship opportunities; networking with other STEM students.
---
UMSL STEM Departments
---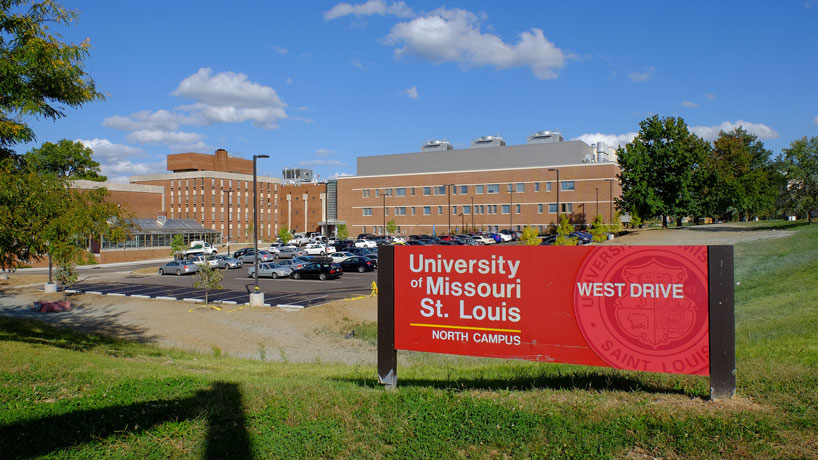 The UMSL Science Complex includes the new Science Learning Building extension. (Photo by August Jennewein)
The University of Missouri–St. Louis is one of eight Missouri schools sharing in a $5 million grant from the National Science Foundation to increase minority graduates in science, technology, engineering and math.
The grant calls for a 125 percent increase. That means graduating statewide more than 600 minority STEM students by 2021. Numbers show that Missouri graduated 283 such students in 2014.
The announcement came yesterday from Gov. Jay Nixon at Harris-Stowe State University, which serves as the principal investigator for the NSF grant. The funding specifically comes from the Louis Stokes Alliances for Minority Participation within the foundation.
The other university partners include the University of Missouri–Columbia, St. Louis Community College, Washington University in St. Louis, Truman State University, the University of Central Missouri and Lincoln University.
Called "the Missouri Alliance," the eight schools represent 65 percent of all minority STEM graduates statewide. The alliance is one of 45 funded nationally through the LSAMP program, which focuses funds on comprehensive, evidence-based, innovative and sustained strategies that result in higher graduation rates of well-prepared, highly qualified STEM students from underrepresented groups.
UMSL Associate Provost Paulette Isaac-Savage attended the announcement and spoke with KMOX (1120 AM).
"We have great science programs at [UMSL] now," Isaac-Savage said. "But this will certainly give us an opportunity to bring more students from underrepresented groups to the campus and to prepare them for the STEM fields."