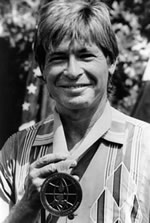 In a major effort to draw attention and resources to the problem of the rapid destruction of the world's tropical rain forests, the International Center for Tropical Ecology at UM-St. Louis honored recording artist, film star and activist John Denver with its first World Ecology Award. Denver received his award at the center's first major event, a World Ecology Day held September 13, 1990 on the UM-St. Louis campus.
Born on December 31, 1943 in Roswell, New Mexico as Henry John Deutchendorf. He was raised in an Air Force family, and grew up in various regions of the southwestern U.S. As a teen, his grandmother presented him with a 1910 Gibson acoustic guitar, and while attending Texas Tech University he began performing local clubs. He dropped out of college and moved to Los Angeles in hope of getting a career in music. It was there that he changed his name to John Denver. In the middle 60's, John joined the Mitchell Trio and experienced some success. His first taste of success came when John wrote Leaving On A Jet Plane which was recorded as a single for Peter, Paul and Mary and became a number 1 Gold Record.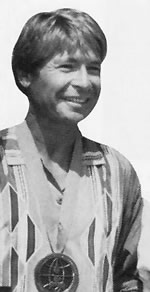 Denver is probably best known as an entertainer, having recorded hit songs such as Take Me Home, Country Road, Rocky Mountain High, Sunshine on My Shoulders and Annie's Song, as well as having starred with George Burns in the movie Oh, God! He was also one of the nation's most visible environmental activists. In addition to incorporating environmental themes in many of his songs, in 1976 he helped found the Windstar Foundation, a non- profit environmental education and research center. He was also a supporter of the National Wildlife Federation, Save the Children, The Cousteau Society, Friends of the Earth and the Human/Dolphin Foundation. He was a member of the Presidential Commission on World and Domestic Hunger and a recipient of the Presidential World Without Hunger Award.
Denver created Plant-It 2000, a plan to urge people all over the world to plant as many trees as possible by the year 2000. Nearly 100,000 trees were planted in its first year of operation. Denver's enthusiasm for the environment was also demonstrated by his WildLife Concert. This concert was in celebration of the 100th anniversary of the Wildlife Conservation Society (WCS). The WCS, headquartered at the Bronx Zoo in New York City, is one of the largest conservation organizations in the world, and Denver served on its Board of Advisors.
Tragedy struck on October 12, 1997 when his experimental aircraft suddenly crashed, killing him instantly. Denver was 53. In honor of his memory, the International Center for Tropical Ecology established a scholarship in his name.